AKKI NUCHHI BELLA JONI PUDDING – STEAMED RICE PUDDING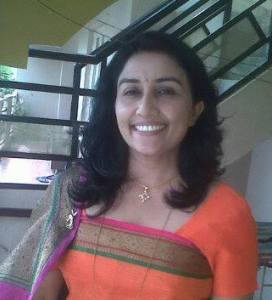 This recipe, for a delicious rice pudding, is shared by Prithi Poovamma, a senior operations manager at Mphasis, in Bangalore.
 An English literature graduate, who also has a diploma in architecture, Prithi is married to Kolera Harish. They have two sons, Yadhu Somaiah (18) and Thanav Thammaiah (9).
 Prithi has travelled all over India with her ex-serviceman father, Nayada Madhu Madappa, and she has also visited the UK on work.
 Her dream, she says, is "to own a small little café in Coorg when I retire, as Coorg is the place I love the most".
 About the recipe, which is made using fine, broken rice (akki nucchi), jaggery syrup (bella joni), butter, and milk, Prithi says: "I am not sure about the origin of this pudding. My maternal grandmother used to serve the dish at tea time. Honey adds its own flavour to this pudding when used as a sauce."
 Akki Nuchhi Bella Joni Pudding       
 Ingredients:
250 grams small broken rice (preferably brown)
6 tablespoons of butter
300 grams jaggery (cane sugar)
1 teaspoon salt (to enhance the taste of the jaggery)
100 ml milk
400 ml water
Method: 
Roast the broken rice until crisp
Boil water, add the jaggery and continue boiling until the consistency is syrupy
Whisk the milk with butter
In a large bowl, add the roasted broken rice, salt, whisked butter & milk, jaggery syrup and mix well.
Pour into a greased dish and steam for 30 minutes or until it is firm on top. (Start checking after 30 minutes.)
Once done, remove and serve the pudding warm with honey.
Alternatively this pudding can also be baked in an oven @ 250 C and be served with toffee sauce