Choute Pachchadi  (Cucumber in spiced curd/Cucumber chutney)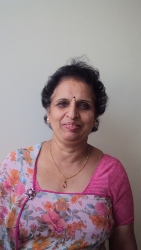 Palanganda Saroja Annaiah is a homemaker from Bangalore. She says Choute Pachchadi  is a traditional Kodagu dish which is served with palav or ghee rice. Choute Pachchadi can also be eaten with plain white rice and pandi curry (Kodagu pork curry).
Ingredients :
1.     ½ Coconut – grated.
2.     Garlic – 7 to 8 cloves
3.     Green chillies –   7 to 8
4.     Salt to taste
5.     Medium size cucumber*
6.     Curd 1 small cup.
Or
Lemon juice 2 table spoons.
For tempering:
1.     Cooking oil 2 tbsp
2.     Coriander leaves
3.     Mustard seeds ¼ tsp
4.     Dry red chillies (deseeded and broken into large pieces) 2
5.     A few curry leaves 
METHOD: Grind coconut, garlic, green chillies and salt to fine paste. Cut cucumber into small pieces and grind it. Mix together the coconut paste, cucumber, and lemon juice if using. Transfer the Pacchadi /chutney into a serving bowl.
Heat 2 tablespoons of oil in a pan and add mustard. Allow it to splutter. Add curry leaves, red chilli and coriander leaves. Then pour it on the pacchadi in the serving bowl. In the end, add curd to the pacchadi and mix well using a spoon.
*Choute is a type of field cucumber, with less moisture and tougher flesh than most commercially grown varieties. If using the latter, finely grate the cucumber, and squeeze out a little of the liquid before using.