Roona Uthappa Ballachanda is a writer, and has an MSW degree from Southern Illinois University, USA.
Back in India, she juggles freelancing as a writer working from home, with the demands of looking after her young daughter. She says finding the balance between cooking healthy and nutritious food, while also appealing to a child's palate, is a constant challenge. 
She shares this recipe from her Bojava, Ballachanda Tangamma, who is an excellent cook.
Says Roona: "Bojava doesn't like to stir out of her home in the village, and I am not able to visit her as often as I would like to. Begging for recipes over the phone and trying to recreate it in my kitchen is the best I can do! I enjoy this chicken dish, sometimes cooked almost dry for a starter, or made with a thick, dark gravy to be poured on hot white rice, and eaten with an accompaniment of chopped onions marinated in salt and lemon juice. It's just as good eaten with akki ottis, or with ghee rice in place of the more popular coconut based chicken curry."
Roona suggests that if you want a good amount of gravy, cook this in a deep utensil like a Dutch oven or a cooker. If you want a dry version, cook it in a large (preferably cast iron) skillet and evaporate the moisture at the end.
Chicken Curry with Thick Dark Gravy
Ingredients:
Chicken 1 Kg, chopped and marinated in 1 teaspoon each of salt, turmeric and chili powder
1 big onion, thinly sliced
Curry leaves – 1 to 2 sprigs
Kachampuli, scant one teaspoon and/or juice of one lemon
¼ cup oil
Salt to taste
 For wet ground masala:
 Medium sized tomatoes, chopped – 3
Ginger 1 inch piece
Garlic, one full pod if small Indian variety or 7 to 8 big cloves
Medium sized onions chopped – 2
Green chili or bird's eye chili according to taste
Roasted poppy seeds – 2 teaspoons
Roasted cumin powder – 1 teaspoon
For dry ground masala powder:
 Coriander seeds – 2 tablespoons
Cumin seeds – 1 tablespoon
Mustard seeds, large – 1 level teaspoon
Cloves – 4
Cinnamon/Cassia bark – 1 inch piece
1 to 2 sprigs of dried curry leaves. (Sun dried or gently dehydrated on a hot tava)
 Method:
Prepare the wet ground masala using the ingredients given above and keep it handy.
Heat oil in a pan and when it is hot, splutter the curry leaves and add the sliced onions. Cook the onions until they become translucent and begin to show brown flecks.
Add the wet ground masala and with heat on medium, fry it well. The masala should cook well, and the raw smell should go away.
Add the chicken, some salt, and stir well to coat it with the masala paste.
Cover it with a lid and cook it on medium low until chicken is nearly cooked. Check in between to make sure it's not going dry. If it is, add water little by little as required. If you prefer to have more gravy, you can use more water, however take care that it doesn't turn out to be too watery.
While the chicken is cooking, prepare the dry masala powder.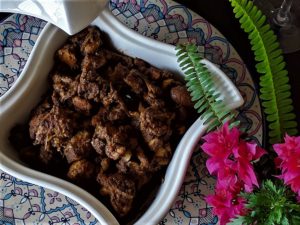 Dry roast all the ingredients  except the curry leaves. Once they cool down, add the dried curry leaves and make a powder. The resultant powder should be almost black in colour, not too coarse, not too fine, just slightly grainy.
When the chicken is almost cooked, add the dry masala powder and let it cook until the chicken is well done and the masala powder has blended into the curry. Taste check for salt at this point and add more if needed.
Add kachampuli and let it simmer with the lid off for a few minutes. After you turn off the stove, for some extra tang, you can add the juice of one lemon (optional).
Serve hot with white rice and a suitable relish on the side.