CHICKEN CUTLETS
Shilpa Bopanna grew up in Mumbai. Her parents, Machangada Appaiah and Nervanda Shanthy, however, ensured that she and her two sisters visited Coorg on every vacation to keep them connected to their roots and traditions.
A cooking enthusiast from an early age, she loved to experiment with dishes that were not regularly prepared at home by her mother, to whom she credits her culinary skills. After marriage to Kalengada Bopanna, Shilpa realised her husband loved good food, and Kodava cuisine in particular, so she set about learning various recipes from family members.
She shares a favourite recipe for Chicken Cutlets that was given to her by her cousin Jyoti.
Chicken Cutlets
Ingredients:
Chicken – 900 gms
Onions, chopped – 3
Ginger garlic paste -1/2 tsp
Green chillies – 3
Coriander powder – ½ tsp
Chilli powder – 1tsp
Turmeric powder – 1/2 tsp
Garam masala – 11/2 tsp
Pepper powder – 1 tsp 
Coriander leaves, chopped – a  few sprigs
Potatoes, medium sized- 3
Egg whites – 2
Breadcrumbs – for coating
Oil – for frying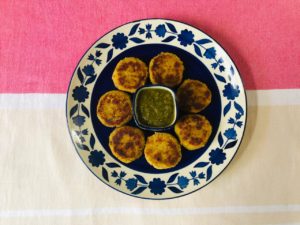 Method:
Pressure cook and mash the potatoes . Add salt, chilli powder, turmeric, coriander powder, some garam masala to taste, and keep aside.
Marinate chicken with chilli powder, turmeric and salt and pressure cook it. Shred the chicken and keep aside. (You can mince it as well, but I prefer not to)
In a medium sized non-stick pan , heat a little oil. Add the chopped onions, chopped green chillies, ginger and garlic paste and saute for 3-4 minutes.
Add shredded chicken and saute well for 10-15 minutes. Toss in the garam masala and pepper powder. Stir in the chopped coriander leaves.Turn off the flame and let the mixture cool for 10 minutes.
Add the mashed potatoes to the chicken mixture and mix well using your hands. The mixture should hold shape when rolled into balls. Taste if all spices are blended in well and adjust the same accordingly.
Take small portions of the mixture and roll into lime sized balls, then flatten between the palms to give it shape.
Beat egg whites with a fork. Dip each cutlet in egg white, then roll it in breadcrumbs.
Heat oil in pan and fry the cutlets on medium flame till they are golden brown.You can deep fry or shallow fry the cutlets.
Serve hot with green chutney.
Enjoy!