A very simple chicken or mutton curry
Fresh, subtly spiced, and perfect with paputtu, nuuputtu, or steamed rice.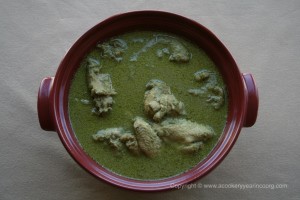 1 kg chicken, jointed (or 1/2 kg stewing goat or lamb meat)
2 medium onions, finely sliced or chopped
1 tsp turmeric powder
1 tbsp coriander powder
1/2 tsp chilli powder, or to taste
1 tsp very finely ground pepper
4 tbsp oil
Kachampuli or tamarind extract
Grind to a paste
2 cups freshly grated coconut
5 – 6 cloves
2″ cassia bark
1 1/2 tbsp grated ginger
A small bunch of fresh coriander (optional)
Mix the meat with all the dry spices in the first group. Add salt and set aside for 1/2 hour. Heat the oil in a deep pan, kadhai or wok and fry the onions till soft and just beginning to brown. Put in the marinated meat and fry on high heat for a few minutes until the meat is evenly browned.
Add 3 to 4 cups of hot water and cook on medium low (or pressure cook) until nearly done. Add the ground coconut and spice paste and simmer gently until the meat is tender. Add 1/2 tsp kachampuli or 1 tsp thick tamarind paste a few minutes before removing from the heat.