Pandi curry two ways
Pandi Curry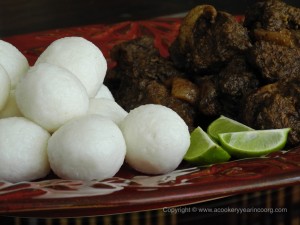 Pork in a dark, spicy sauce
1 1/2 kg pork, with fat and skin (some bone in if possible) cut into 1″- 2″ pieces. For a succesful pandi curry, you must ideally include a  good portion of fat. Try a mix of pork belly and shoulder cuts
1/2 –1 tbsp chilli powder, or to taste (reduce chilli powder and increase pepper in the roasted spice mix for a more warming version)
1 tbsp turmeric (less if the turmeric is strong)
2 tbsp freshly grated ginger, ground to a paste
10 -12 cloves of garlic, ground to a paste
A pinch of salt
Separately roast the following:
2 tbsp coriander seed
1 tbsp mustard seed
1 tbsp cumin
1 tsp peppercorns
On medium-low heat, roast each of the spices in a heavy pan, taking care not to scorch them. The coriander and cumin should be an even, dark brown. This is key to developing the deep colour and flavour of pandi curry. Roast the mustard until it sputters, and very lightly roast the peppercorns. Cool, then finely powder all the spices together.
Marinate the pork in the ingredients in the first group for at least half an hour. You can add the roasted spice powder to the marinade, or braise the meat in it briefly, before the hot water goes in.
• 2 – 3 medium onions, finely sliced, or chopped
• 2 – 3 green chillis slit
• 2 tbsp oil, or use a nice bit of fat, separated from the pork
• 1 tsp kachampuli*. (Always use less than you think you'll need, and add more if required)
• Salt to taste
In a deep pan, kadhai, or wok, heat the oil (or fat) and fry the green chillis and onions until soft and translucent. Add the marinated pork, and stir well to mix. Add some salt and fry for 8 – 10 minutes, till the masala no longer smells raw, and the pork is dry. If you haven't added the roasted spice powder, add it now, and stir to mix.
Add 2 – 3 cups of hot water, or enough to half cover the meat. Use your judgement, since some meat can release a fair amount of liquid when cooked. Bring to a low boil, stir thoroughly to mix, then cover and cook on low heat, stirring occasionally, until tender. Check for salt before the meat is completely cooked.
Add the kachampuli and simmer for a couple of minutes.
The second version is similar, but with more varied spices, and a slightly different sequence of cooking. It makes a kind of dry braised dish. This is definitely one for those who like it spicy!
Pandi Curry 2.0
1 1/2 kg pork, with fat and skin (some bone in if possible) cut into 1″- 2″ pieces
1/2 –1 tbsp chilli powder, or to taste (reduce chilli powder and increase pepper for a more warming version)
1 tbsp turmeric (less if the turmeric is strong)
Grind together:
2 tbsp freshly grated ginger
3 – 4 green chillis, or to taste
1 cup  "sambar onions", or finely sliced shallots
Rub the turmeric and red chilli powder into the pork, then mix in the ground ginger garlic mixture, and a pinch of salt. Set aside for 1/2 hour.
•Separately roast the following:
2 tbsp coriander seed
Prepare as in the previous recipe, with the coriander and cumin roasted dark, and the remaining spices more lightly.
Grind together to a fine powder.
Place the marinated pork in a deep pan, kadhai, or wok, add one cup of hot water, cover and cook until tender. Add small amounts of water if it looks like it's drying out before its cooked. Add salt to taste before the meat is fully cooked.
Add 1 tsp kachampuli, and cook on low heat for a few minutes, then add 2 generous tbsp of the roasted spice masala and cook till dry.
Serve as usual, with kadambuttus, and wedges of fresh, fragrant limes.